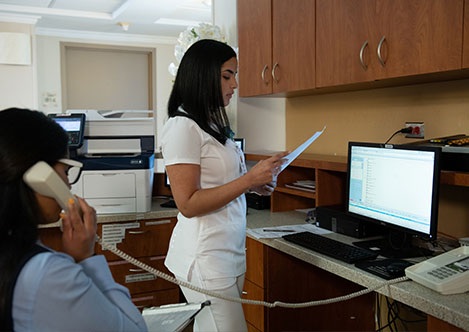 Inpatient Coordination
MSO has a team that works hand in hand with physicians to identify needs and to take care of patients who request additional assistance.
inHealth
Supports MSO services to give hospitalists the tools they need to ensure that the patient's hospitalization experience is the best possible.  inHealth manages the patient's transition between outpatient and inpatient settings, by coordinating care and by supplying needs at the diverse care levels. 

Our Inpatient Management Program achieves:
Better care transition and utilization management
Optimization of service coordination
Adequate treatment  at the place and time that is best for the patient
Access to physicians specializing in inpatient care, 24/7/365
Unidad Dorada
Exclusive facilities from MMM members who require being hospitalized, and their caregivers. Each facility offers top quality medical services from urgency or emergency attention, to inpatient care including post discharge services at home.
It serves as an intermediary between the hospital, the primary physician, and the patient, to ensure that all outpatient services are completed.
Unidad Dorada facilities are available at:
Bayamón Medical Center, Bayamón
San Lucas Episcopal Hospital, Ponce
Mayagüez Medical Center, Mayagüez
Metro Pavía Hospital, Santurce
HIMA San Pablo Hospital, Caguas
Inpatient Initiatives
MSO and inHealth staff integrated to clinical affairs and customer service issues
Opportunity for IPA groups to be part of clinical rounds
Integration of the PCP to interventions made to their patients
Discharge planning at the hospital, and medical appointment scheduling
Delivery of medical equipment to patient before the discharge
Wound care services integration
Mental Health and Social Work evaluation and services starting at the patient's admission
Delivery of outpatient medications upon discharge
Integration of clinical information systems, from the hospital to MSO
Others
Our model of care is innovative
and unique in Puerto Rico